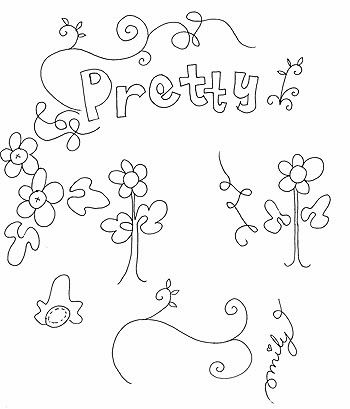 Ini saje conteng-conteng (bace: takde keje). Cari idea. Lukis-lukis. Aku suka buat doodle nih. Sejak sekolah lagik. Habis buku nota kena conteng (bace: patutlah result cun). Nak best lagik kaler dengan highlighter kan.. striking lagik. Sekarang entah mane-mane dah. Dulu ade gak aku koyak mane-mane yang cam ade kenangan or yang agak-agak cantik (bace: poyo), letak satu tempat.. entah mane jugak aku simpan (bace: dah buang lah tu).
So, this will be the next project. Tulisan tu aku tak akan buat penuh.. just outline saje (bace: malaslah tu nak penuhkan).. Bunga-bunga tu, ingat tak aku beli butang kaler-kaler tu (bace: laa.. nak pudar dah kaler butang tu). Aku nak buat guna butang tu center dia. Tengok lah nanti macammana.. (bace: entah bile aku nak buat)
Nota: Sorry Tety, pinjam ayat 'Pretty' tu.. (bace: tiru idea). Haha!!