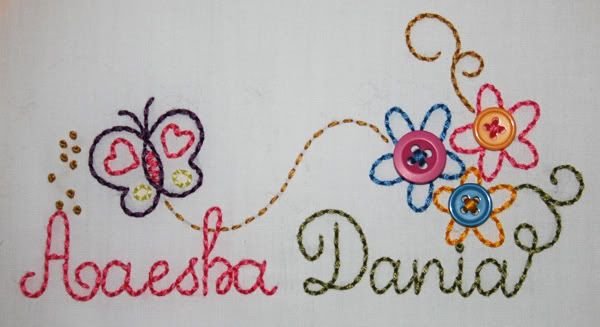 Ini new design untuk Aaesha juga. Thanks again Kalin, for your trust.. Harap Kalin suka.
Dah lama juga aku simpan butang-butang tu nak dijadikan tengah bunga.. tak sempat-sempat nak buat. So, aku guna kesempatan ni, atas kepercayaan Kalin. ;)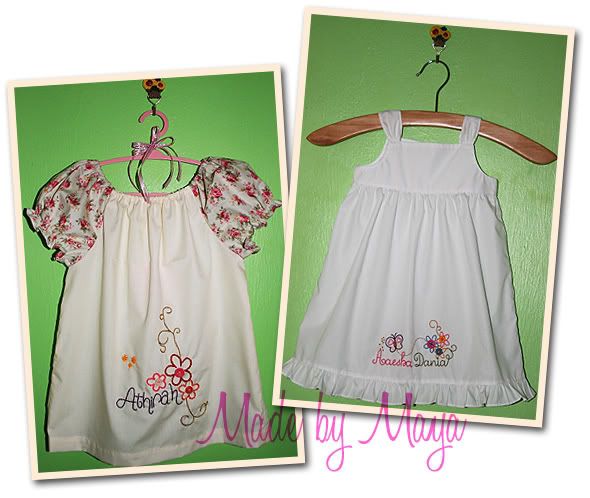 Jugak, aku buat untuk hari special Athirah, aka Aisyah, for her 4th birthday.. Yang ini aku buat last minute. Alhamdulillah sempat jugak siap before the party.. Haha!
Huh! Selepas beberapa weekend aku yang rase ketandusan, akhirnya, this weekend ceria sikit. Hari Sabtu pegi birthday bash Aisyah. Hari Ahad, sesi berkumpul satu famili kat umah aku. Mak, abah & semua adik-badik aku ade.. macam raya pun ada, tu yang syok tu.. Hasra sebenarnya on the way nak balik kampung dari Melaka. Uish.. cepat betul besar si Lukman Hakim.. baru dua bulan, nak same besar ngan Melly dah... Dania pulak dah start bertatih.. Adoi laa.. Melly gak merangkak pun belum.. tapi Melly dah tumbuh gigi bawah 2 batang.. Hah ha!
Elman ikut mbah balik tadi. Lepas semua dah balik, Melly pulak tido, papa belum balik keje.. sunyi je rasa. Belum2 dah rindu cemane? Cuti sekolah kan.. Elman dari hari Sabtu lobi suh mama tak yah keje.. nak cuti lama-lama katanya.. adei.. Telepon Elman.. saje nak tau cemane dia.. "Abang suka dok umah mbah.." katanya dengan suara gembira.. Ok lah kalau dia suka..
Nak layan AF, AF pulak dah habis. Rasa macam kejap je AF kali ni, sebab lambat panas kan.. Dah last2 baru best nak tengok... Anyway, Stacy dah menang.. Lepas Mila, Stacy pulak, lepas ni jangan harap ler lelaki nak menang AF.. Huhu..